Life Logging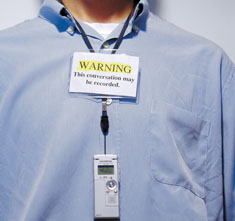 Introduction
"A lifelog is a detailed chronicle of a person's life involving large amounts of data."
"The action or practice of making a continuous record of one's daily activities by means of a digital device or computer application."
Lifelogging tracks personal activity data like exercising, sleeping, and eating.
What Is Lifelogging?
The concept originated with the idea of wearing a gadget or computer that records or captures large chunks (if not each moment) of a person's daily life.The first person to do this actually did it as far back as 1994. Steve Mann is considered the "father of wearable computers"
History and Evolution
The definition of lifelogging began with the idea of some sort of wearable gadget that automatically records your data for you.
It has since evolved to include manual options which allow you to record the data to an app or service on a daily basis.
The most common form of lifelogging is used in sports.
Gadgets like the Jawbone UP and Fitbit track your physical activity, fitness, and sleep activity.
Types of Lifelogs
1) Wearable Gadget
A wearable gadget is the easiest way to lifelog since it automatically captures the data for you.
For example: If you regularly workout and want to keep track of your progress, this is the ideal way to do it so you don't forget to record any of your data.
Other types of wearable gadgets include cameras, like the Memoto which shoots photos, and Looxcie, which shoots videos. Of course, Google Glass would also fit in this category.
2) Mobile Apps
There are apps for taking photos (like the Everyday app), shooting videos (like 1 Second a Day), logging your sleeping pattern (like Sleepbot), tracking your heart rate (like Instant Heart Rate), and recording and tracking your workout (like Runkeeper). The disadvantage to using a mobile app rather than a gadget is that you sometimes have to remember to manually enter the data, but a lot of apps will come with a reminder notification built in. Even if they don't, you can simply use your phone's reminder app and set up a recurring reminder to record your data on a daily basis
3) Web Apps
Like mobile apps, there are web apps that we can use to record our data, but this is likely the most inconvenient option of the four.
Lifelogging, by its very nature, is best done while you're on the go so you don't forget to enter the data, or don't forget what the actual data was. There are some pretty solid services worth considering which are automated, like RESCUE TIME which will tell us how we are spending time on your computer
4) Standalone Gadget
There are a few standalone gadgets that are used to create a lifelog. These lifelogs are not of your surroundings but of your immediate interactions. For example, CubeSensors can monitor your surroundings, and "continuously measure temperature, humidity, noise, light, air quality and atmospheric pressure for every room, and they can even pick up unwanted vibrations that shake up your building."
Case Study #1
Abstract/Introduction
38 year old man called CG wears Sensecam (automated camera) every day for 7 years
Of interest to the study were the participant's day-to-day experiences wearing the camera and whether these had changed since first wearing the camera
The findings outline the effect that wearing the camera has on his self-identity, relationships, and interactions with people in the public
Issues relating to data capture, transfer and retrieval of lifelog images are also identified.
Method
In 2006, CG wore the SenseCam to collect visual data for a two-week period while on a trip to Norway
Then, he aimed to obtain 1 million images, then to do it for 1 year, then 2, etc. until 7 years and counting
The initial motivations behind CG wearing the camera was to allow the research center where CG works to use the data to understand how to manage and organize large data sets
He wore Sensecam via a lanyard on his neck from morning to night, only taking it off when showering, changing, sleeping, and when forced to (airport security)
Interview Design
Interview was structured beginning with questions relating to CG's personal details and lifestyle
Then a series of questions concerning the use of the camera, the images, and the effect that the camera has on tasks, behaviors, and interacting with other people
Questioned about how his experience with how it changed over time
Then asked to provide any predictions or solutions to the progression of lifelogging in the future
Findings
5 Major Themes Identified:
Data capture and Access
CG reported that during the first few weeks of wearing the camera he "did more interesting things"; tried to be more social, but then life took over and he quickly fell back into his usual routine
Similar for reviewing his images, where in the first week he looked at his images every day
This gradually lessened over the weeks and now CG claims to only review his images if he experienced a significant event
Identity
Lifelogs are meaningful to the person who captured these images because they represent their life and their experiences
To CG, these images are a more accurate version of a person than their understanding of themselves
"The camera has a trace of you…a record of you, the memory of you, whereas you own version is error prone and subjective."
He expects that when his memory declines as he ages, the data will become his memory
Relationships
CG believes that people who he sees regularly simply don't notice it anymore, and he does not notice a change in their behavior
People also rarely asked to look over the images that were captured
CG predicts that this might change when images are automatically uploaded to a smart phone, which will make them easier to view and share in the moment
Public Interaction
CG said that although people might notice the camera, he is rarely asked about it
Surprisingly, he reported that he feels just as self-conscious now in public places when interacting with strangers, as he did when he first wore the camera seven years ago
Ideal capture and societal expectations
There is a dichotomy between CG's lifelogging ideal and his actual behavior based on current societal expectations and technology restrictions
CG appeared to be acutely aware of a stranger's response to the camera, and he continuously uses his judgment of a situation to decide whether or not it is appropriate to wear the camera.
Conclusion
If lifelogging becomes a more widespread activity as predicted, then the initial experiences and datasets of individuals such as CG will become very valuable for informing us of the long-term effects of digital life capture and provide some experiential guidelines on how lifelogging could progress in the future.
The next stage of this research will be to investigate the attitudes and experiences of the people who encounter CG and his lifelogging camera.
Case Study #2
Introduction
Three students report their experiences of using a Narrative Clip 2 lifelogging camera and a Fitbit Charge HR activity tracker to collect additional data about users' daily lives.
Specifically, they looked at students' experiences of places for studying and working in relation to daily routines.
The reason for the study was a hypothesis that students should not be tied to one physical place for performing their daily work, and that their expectations and preferences would vary in some way.
Method
The method they employed covers a process including a lifelogging data collection, co-creation sessions, and a semi-structured interview about the users' experiences of places for working and studying.
A timeline visualization of the collected data was also created. Attitudes to lifelogging were gathered using a questionnaire both prior and post of the participants' data collecting sessions.
A 7- day pilot study was conducted by one of the researchers prior to the main study, to examine the lifelogging technology, and any personal reactions to carrying the technology.
Findings
The Fitbit data revealed activities or moments with unusually high or low heart rate. Since the Fitbit can be carried day and night it also helped identify when participants went to sleep and woke up. It also revealed moments where the participant consumed alcohol or tobacco, and provided an additional level of analysis.
The questionnaire revealed that participants were more cautious of life logging technologies before participating in the study
Participants felt that it had been interesting to log and examine their everyday behaviour and they believed that their behaviour had not been altered by the logging.
Conclusions
This paper contributes by exploring and describing a novel way of using lifelogging technology in user experience research.
Lifelogging provides very detailed data compared to pure self- report methods but it is very time consuming, due to the sheer amount of data.
Lifelogging provides a great way to monitor your health, to make sure you're exploiting from your work, and also offers you the means to improve the quality of your life.
Conclusion/Analysis of Lifelogging
Lifelogging was originally used to capture huge chunks of someone's life
Evolved into tracking the data of our everyday activities like eating, sleeping, and exercising on apps we use commonly
Today it is most commonly used with health and exercise apps
Lifelogging is predicted to be used more and more frequently as our technology continues to evolve
References
http://weibel.ucsd.edu/download/cse118/p52-caprani.pdf
https://en.oxforddictionaries.com/definition/lifelogging
https://en.wikipedia.org/wiki/Lifelog
https://www.tandfonline.com/doi/pdf/10.1080/14606925.2017.1352898
https://www.postscapes.com/lifelogging-device/